Shelley Jackson: Biographical Statement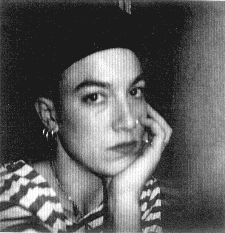 Follow for a self-portrait assemblage
Shelley Jackson has a BA in Studio Art from Stanford and an MFA in Creative Writing from Brown. She continues to divide her time between art and writing. She has illustrated two children's books and is working on two more; her short stories have been published in Conjunctions and Gas and are forthcoming in Yellow Silk and Black Ice. Patchwork Girl, her hypertext web, was published by Eastgate Systems. She lives and works in San Francisco.
She writes: "I was born in 1963 in the Philippines and grew up in Berkeley, California. I was unhappy at Stanford, except for quarter I spent in Berlin, but I stayed to study art under Nathan Oliviera and Frank Lobdell, and at the same time became serious about writing poetry. After college I got a job in a used bookstore in Oakland. I continued to make art in the form of big semi-abstract charcoal drawings but found myself writing less and less poetry. I met another writer, Jonathan Lethem, and began to write fiction--prose might be a better word for it, because I used language in a visual and tactile way and flirted only weakly with plot.
"I began illustrating my first children's book at about the same time as I entered the MFA program in Creative Writing at Brown, drawn by Robert Coover and a general sense that innovative work was encouraged there. That impression proved true: Coover, Paul West, Rosemary Waldrop, Gale Nelson and fellow students Tim Taylor and Euridice Kamviselli all inspired my writing in one way or another, and George Landow introduced me to hypertext. I published my first stories, began experimenting with collage techniques in writing, and started Patchwork Girl, my hypertext web. After graduation I drove back across the country to San Francisco, where I'm working once again at a bookstore. In my free time I'm forming a band, illustrating my third book, writing "stories" and, occasionally, publishing them. Patchwork Girl was be published by Eastgate Systems sometime late in 1995."
---